The Wisdom & the Folly - Dale Ralph Davis (1 Kings)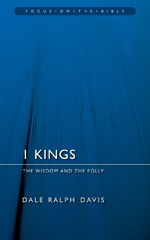 5 out of 5 - Refreshing, penetrating, biblical application & explanation
"Have you ever wondered why bits of the Bible are boring?" asks Dale Ralph Davis with refreshing honesty.
Such open honesty characterises this sane and sensible commentary on 1 Kings. Perhaps the words 'sane' and 'sensible' give the impression that the book is itself rather dull and boring, but not so.
In a way that is refreshing, humorous and penetrating Davis opens up the book of 1 Kings and provides sound, wholesome teaching. It is only when you look in the footnotes at some of the weird and wonderful interpretations from various scholars that you begin to appreciate the quality of what Davis is giving to you. His quick-fire no-compromising-with-scripture demolition job of these authors, coupled with his simple clarity, reassures the reader that, in the words of Dick Lucas, we are in "a safe strong pair of hands to guide us through the treasure - and the uninspiring bits - of 1 Kings."
This is a superbly easy-to-read book on 1 Kings. There is clear explanation, and there is excellent illustration, with the central theme of each section being plainly set out. But the thing I liked best was the incisive application. It is not possible to read this book and feel unchallenged.
But what is there to be learnt? Davis guides us through such themes as the majesty of God, prayer, wise living, and God's faithfulness. He brings a challenge to shake us out of our complacency.
Look out for other books by this author - he has also written on Joshua, Judges, 1 & 2 Samuel.
And why are bits of the Bible 'boring'? "Because they are the records of sinful men who simply repeat the sins and evil of those before them. Sin is never creative, but merely imitative and repetitious ... Evil carries a built-in yawn. 'And he walked in the ways of Jeroboam and in his sin.'"